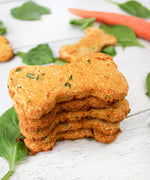 Almost half of dogs in Australia are overweight or obese1.
We know it's hard to resist those puppy eyes! That's why we have rounded up three low calories dog treat recipes so you can continue to spoil your pup without the guilt!
These dog treats look good enough for us to eat and are made with fresh ingredients only!
These low calorie treats are perfect for dogs with allergies to wheat or those on a grain-free diet! 
The only fat in this recipe come from the bananas, making it an ideal treat for dogs suffering from pancreatitis. It also uses polenta, which is not often found in dog treats but makes it grain and gluten free!
Which recipe will you try? Let us know in the comments!
Reference:
McGreevy PD, Thomson PC, Pride C, Fawcett A, Grassi T & Jones B. Prevalence of obesity in dogs examined by Australian veterinary practices and the risk factors involved. Vet Rec. 2005 May 28.
Want to be the first to get your paws onto the hottest topics? Subscribe to our newsletter!
-------------------------------------------------------------------------------------------------
The Doggy Grub blog is dedicated to helping dogs and their owners achieve happier, healthier lives, changing the way we feed our dogs one bowl at a time! If you would like to know more about our fresh food head to Doggy Grub