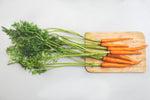 Human grade
We make our food using carefully sourced and recognizable human grade ingredients, like sweet potatoes, free-range kangaroo and blueberries.
Not only do they taste good, they're great for your dog too!
How we assure quality
✔️ We meet the same strict standards as food for people.
✔️ We cook in a human food facility that follows good manufacturing practices.
✔️ Our finished goods are regularly inspected by an independant, third-party laboratory, to make sure it is free from pathogens (E.coli, Listeria, Salmonella).
✔️ All our suppliers follow HACCP system.
Small batch cooking
So we can have better control of the quality of our casseroles.
That means our food doesn't stay on shelves for months as we cook fresh batches often.
No Nasties!
We believe your dog deserves food that is safe and tasty.
You will never find in our casseroles:
❌ Artificial colours and flavours ❌ Added preservatives
❌Synthetic vitamins & minerals ❌ Rendered meat or meat meal