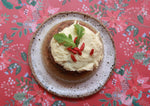 Nothing says Christmas like a traditional Christmas pudding!
Unfortunately, dried fruits, brandy, and sugar are not our pups' best friends.
To avoid an emergency trip to the vet on Christmas day, we have come up with this dog friendly Christmas pudding recipe! But we didn't stop there: we also made it "Southern hemisphere Christmas" friendly by turning it into a frozen treat, sure to keep your dog cool and busy while you fry up the barbie.
Ingredients:
500ml bone broth or salt-free chicken or beef stock.
Various small treats (we used Ella & Abbi Christmas themed treats).
50g of yoghurt buttons
A round mould. We used a Lickimat Wobble.
Handful of goji berries and mint or rocket leaves for decoration.
Direction:
Prepare your broth or stock ahead of time and let it cool in a jar in the fridge.
Spoon your Doggy Grub casserole into your Wobble and press hard with the back of a spoon onto the sides.
Add enough broth to cover and place in freezer.
Once frozen, add more cold broth and have fun placing all your dog treats.
Cover with more cold broth and place in freezer.
Once completely frozen, unmold onto a plate. 
Melt the yoghurt buttons (bain-marie or microwave) and pour onto your pudding. Work quickly as the yoghurt will set as soon it comes into contact with the frozen pudding.
Top with a few goji berries and two leaves of mint or rocket.
Watch your dog get entertained on a hot Christmas day!
Note: always supervise your dog when eating a new treat.
Let us know in the comment if you try this Christmas pudding recipe for your dog!
Want to be the first to get your paws onto the hottest topics? Subscribe to our newsletter!
-------------------------------------------------------------------------------------------------
The Doggy Grub blog is dedicated to helping dogs and their owners achieve happier, healthier lives, changing the way we feed our dogs one bowl at a time! If you would like to know more about our fresh food head to Doggy Grub