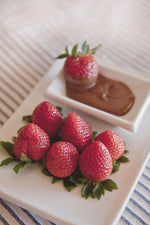 Valentine's day is just around the corner!
To all the single doggies out there, we've got you (chocolate) covered with a super easy recipe your human can do to show you their love. You can even share it with them! Finally, a treat you both can eat…
Ingredients:
120g carob chips
2 tbsp of canola oil
Strawberries, stem discarded.
 Steps:
In a microware safe bowl, place carob chips and canola oil over the top.
Put in microwave and heat until carob chips have melted (typically 1 min).
Meanwhile, prepare a tray covered with baking paper.
Dip strawberries into melted carob, let excess drip and place onto baking tray.
Put in the refrigerated until the carob has hardened and it's ready to eat!
Lit candles, scatter rose petals and get lost into the loving eyes of your dog. Keep the glass of bubbly to yourself 😉
Happy Valentine's day!
 Download your printable recipe card 
NOTE: you can find carob chips in most health stores. Canola oil is recommended as it will make your carob smooth and shiny while not altering the taste. Other oil such as sunflower or rapeseed oil can also be used safely for dogs. 
Want to be the first to get your paws onto the hottest topics? Subscribe to our newsletter!
------------------------------------------------------------------------------------------------------------
The Doggy Grub blog is dedicated to helping dogs and their owners achieve happier, healthier lives, changing the way we feed our dogs one bowl at a time! If you would like to know more about our fresh food head to Doggy Grub