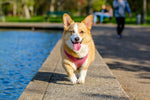 Having free reign sans collar. Tongues and tails wagging. Running around in a huge space. Echoes of happy barks.
Ahh the dog park – a great place for your pooch to prance around, sniff butts and make new friends.
It's also great socialisiation and exercise for the owner. But did you know dog parks come with some common etiquette?
Doggy Grub highlights some standard park protocol when taking your furry friend to a dog park…
Health
Make sure your dog is desexed, vaccinated and registered. Unless they are over 4 months old, puppies should avoid dog parks, as they won't yet have all their necessary immunisations. This also goes for dogs that are aggressive or on heat.
Behaviour
Ideally, your dog is trained or has completed dog school. According to Walkerville Vet, this makes the dog 'more attentive and responsive to you. Reliable recall is very important and one of the most useful skills they will learn.'
Another best practice is to make sure your dog gets exercise beforehand to burn off any pent-up energy. Dog parks can be overstimulating for some which might cause misbehaviour so a quick walk or run with Fido should fix that!
Always keep your dog on a leash until you get to the off-leash area - and then unleash, so the dog is comfortable around other dogs. And remember to close all doors to the dog park after entering or exiting the small or large enclosures (while using the proper enclosure!).
Pay attention
Put down the phone and pay attention to your dog to monitor his/her behaviour. That way you'll be able to see if your dog is leaving stinky surprises (best to bring bags and pick up after your dog!), behaving friendly to little people (children are susceptible to dog attacks) or if the dog has come in contact with an incompatible dog (where things can go sour real quick!)
First and foremost, a dog park is a place where dogs should play nice, be respectful to other dogs/owners and is a safe area for all to enjoy. Follow the aforementioned and everyone can drop, roll and play nice!
Some of Doggy Grub's fave dog parks include: Goodwood Orphanage Park, Hazelmere Reserve Dog Park at Glengowrie and the North Adelaide Dog park.
Click here for more of Adelaide's best dog parks.
https://www.weekendnotes.com/favourite-dog-park-adelaide/
Want to be the first to get your paws onto the hottest topics? Subscribe to our newsletter!
The Doggy Grub blog is dedicated to help dogs and their owners achieve happier, healthier lives, changing the way we feed our dogs one bowl at a time! If you would like to know more about our fresh food head to Doggy Grub