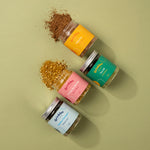 We love food and we believe in its power to heal and nourish humans and animals alike!
This has been demonstrated with so many dogs that are using our fresh meals and thriving, so we wanted to go a bit further.
We are so excited to share what we have been working on for the past year: Grinkles™- Pet nutraceuticals you can easily sprinkle on your dogs and cats' meals for added nutrition or flavour.
What are pet nutraceuticals?
If you're not familiar with nutraceuticals, let us explain!
Nutraceutical is another name for functional food- a food with health giving benefits.
Functional foods are highly nutritious, 100% natural (it's just food!!) and associated with several powerful health benefits. Think superfoods!
They act a bit like supplements, except that they are not made in a lab using synthetic ingredients. This means there is no risk of overdose, or accumulation of toxins in your pet's body.
The amazing thing about nutraceuticals is that, used regularly, they can seriously improve and prevent diseases.
What are Grinkles™
So back to our Grinkles™! We wanted to offer pet owners the possibility of adding these amazing ingredients, each with fantastic benefits, to their dog's bowl, in a very convenient and easy way.
No need to overall your dog's diet, in fact you don't even need to be feeding our Doggy Grub meals!
Simply sprinkle the recommended amount of Grinkles™ to your dog's food and start exposing them to flavours and ingredients they have never tasted before.
True to our vision, we developed our range using only raw ingredients, reducing them into powder form for ease of use and digestibility.
No nasties! No preservatives, artificial colour, or flavouring!
How to use Grinkles™ Grub Sprinkles
Just like our yummy casseroles, Grinkles™ are super versatile!
You can:
Sprinkle them onto your dog's food. This works especially well if you're feeding wet food.
For dry food, you can sprinkle, or we recommend mixing with a knob of coconut oil or lukewarm water. The latter creates a gravy that your dog is certain to enjoy over their bikkies.
You can use as a treat mixing Grinkles™ with mash banana or sweet potatoe and spreading it onto a Lickimat or other toy feeder.
Finally, you can use Grinkles™ in your DIY dog treats by mixing it into your batter or sprinkling on top of treats.
Our range of Grinkles™
We have a Grinkle™ for each pup! Take a look at our range:
Grinkles for Wrinkles- Senior Blend
After spending many years walking and running, most senior dogs suffer from joint pain, arthritis, and general inflammation in their bodies.
To help soothe joints and reduce inflammation, our senior blend pairs Chondroitin (shark cartilage) with green lip mussels and kangaroo meat.
Shark cartilage provides nourishment to the joint lining, increased elasticity, and overall joint health while green lipped mussels are a great source of iron, zinc and selenium. They contain anti-inflammatory and joint protective nutrients. We use whole mussels, not mussel extract.
Macropus powder is made from free-range kangaroo meat. It's a powerhouse of protein and calcium, supporting your dog's bone health.
Finally, we use turmeric and black pepper. A powerful anti-inflammatory, turmeric helps to reduce joint pain and strengthens the immune system. Black pepper is used in small quantity to increase the absorption of turmeric.
This natural blend can be used at any stage of life to prevent joint problems.
Healthy Chompers- Dental Care
Do you want to keep your pet's mouth fresh, clean and prevent periodontal disease?
Our Dental Care Grinkles™ uses Ascophyllum nodosum, a cold-water seaweed that has been proven to improve our pet's oral health by reducing plaque and tartar.
Paired with parsley, for better digestion and fresh breath, this blend is great to use after a meal.
Mix with mashed banana or a knob of coconut oil then spread on a Lickimat Soother. The licking action secretes saliva which washes your pet's mouth, and the soft bristle of the mat scrapes your dog's tongue clean
This blend can be used for both dogs and cats!
Picky Pup flavour boost!
Not all dogs are food driven. We know how hard and frustrating that can be, so we created a natural flavour boost that will transform any meal into a scrumptious feast!
This is perfect for pups who struggle to finish their bowl. It can be sprinkled onto your dog's food just like any other Grinkles™, but our favourite way is to mix it with lukewarm water to create a gravy that can be poured over the food! No dog will be able to resist it!
Picky Pup is made with premium cuts of free-range kangaroo meat, high in protein and low in fat, and tuna meal, a lean source of protein, full of omega-3 fatty acids.
Both have a very enticing smell that will delight your dog's taste buds! 
The OG- all rounder
If you're looking for a daily boost to your dog's overall health, the OG Grinkles™ is for you!
We have used organic superfoods, such as spirulina, chia seeds, wheatgrass and many more, to help maintain a strong immune system, healthier gut, skin, coat and strong joints.
Fun fact: it can also be used by us humans! We recommend adding a teaspoon into your morning smoothie or green juice.
Which one do you think your dog will enjoy the most?
Want to be the first to get your paws onto the hottest topics? Subscribe to our newsletter!
--------------------------------------------------------------------
The Doggy Grub blog is dedicated to helping dogs and their owners achieve happier, healthier lives, changing the way we feed our dogs one bowl at a time! If you would like to know more about our fresh food head to Doggy Grub