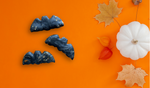 We love a good Howloween celebration with our pets! From a cute costume to a yummy treat.
These peanut butter and activated charcoal bats are spookalicious while giving your dog's gut a boost, helping with gas and bloating.
Peanut butter marbled black bats
Ingredients: Makes 12 dog biscuits
You will need a bat-shaped cookie cutter for these treats 
1 tbsp activated charcoal
1 cup plain flour
1 egg
2 tbsp smooth peanut butter
1 tsp turmeric (optional)
Method:
Preheat oven at 170

°C and line a baking tray with baking paper.

In a food processor with a dough blade, combine all dry ingredients.
Add the egg and peanut butter, and mix until the dough forms a ball. Do not overmix so the peanut butter doesn't combine completely, for that marble effect.
Roll the dough to a thickness of 5mm-1cm then cut out your bats.
Place on baking tray and bake for 20min.
Allow to cool before serving. These Halloween dog biscuits will last up to 2 weeks in an airtight container. 
Quick tip: use gloves and line your benchtop with a sheet of baking paper to avoid charcoal strains.
Want to be the first to get your paws onto the hottest topics? Subscribe to our newsletter!
-------------------------------------------------------------------------------------------------
The Doggy Grub blog is dedicated to helping dogs and their owners achieve happier, healthier lives, changing the way we feed our dogs one bowl at a time! If you would like to know more about our fresh food head to Doggy Grub