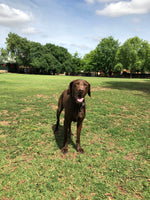 Hi I'm Kirsty from King's Dog Walking. I am lucky enough to have the worlds best job walking dogs in beautiful Adelaide. My dogs are always up for new adventures and love checking out new dog friendly areas to explore.
Here are our top 5 favourite places to hang out during the week.
Mitcham Trails – I love this track because there are so many different trails to take, no walk is the same. Just don't get lost!
We enter from Sleep Hill Drive Panorama near the train line and then pick a trail depending on how we are feeling that day. There are signs along the way to tell you where each track leads however it can be easy to forget which way you came from (lucky my dogs have a better sense of direction then I do).
The trails are fairly safe and have fences around dangerous areas. It is a shared space with lots of bike tracks so its important to be mindful of riders and keep your dogs close if they like to chase fast moving objects.
The grass along side some trails is long so during the warmer months it may be best to stick to the main bike track with your dog on lead to avoid any snake encounters.
Orphanage Park Goodwood – This is my happy place. If you're having a bad day come to this park, sit on a bench and you will instantly feel better – even if you don't have a dog.
The dogs love it here as there is plenty of room to run around and if there has been rain the creek will be running so they can go for a swim!
Every dog and person I have met at the park has been friendly and welcoming, they may not remember you but they will definitely remember your dog's name!
There is space to walk your dog on the sports fields on lead and a huge off lead area. The only slight downside to this park is its not fully enclosed so good recall is a must! 
CC Hood Dog Park Panorama – This is the ultimate dog park with tunnels, obstacles, water bowls, and poop bags as well as being fully enclosed! There isn't much more you can ask for.
During the day you are likely to have the park to yourself however in the afternoons it can get quite busy.  Its great for humans too as there is a path all the way around so while your dog is playing with friends you can catch up on your daily step target.
The big trees make it a good option for summer, as there is lots of shade on hot days.
Hannaford Dog Park St Peters – Plenty of room for running around and it's fully enclosed. This park also has shade from trees which is great in summer.
We normally enjoy a walk along the river Torrens Linear Trail first and then head over to the dog park afterwards for a play. There is a real community feel to this park with lots of toys left behind for dogs to play with as well as big water buckets and a kennel.
The river Torrens Linear Trail is a beautiful walking track along the river, which you can enjoy with your dog on lead.
The track starts at Athelstone and finishes at West beach however we only get time to enjoy the St Peters section which is perfect as it loops around so you can enjoy a short walk or head to the dog park after like we do.
Kirsty has always had a love for pets. She has great knowledge in animal behaviour and training.You can follow Kirsty and Kings Dog Walking's adventures on Instagram @kingsdogwalking and on her Facebook page
Want to be the first to get your paws onto the hottest topics? Subscribe to our newsletter!
-------------------------------------------------------------------------------------------------
The Doggy Grub blog is dedicated to helping dogs and their owners achieve happier, healthier lives, changing the way we feed our dogs one bowl at a time! If you would like to know more about our fresh food head to Doggy Grub