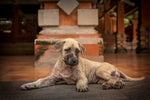 Fact – all pets should have a loving home. A home where their fur parents care for them. Shower them with love and affection. Give them lots of treats, pats and walks. Feed them (with Doggy Grub of course!) and have a bowl filled with water (or milk), at all times.
Reality – stray pets do not have a home. They live on the streets without food or water. Suffer the heat or cold. Catch diseases.
Currently there are about 600,000,000 stray animals in the world.
Pets should NEVER end up on the streets, alone and hungry.
Lucky for initiatives like World Stray Animal Day (and three cheers for pet owners who opt to adopt a rescue pet!) a day which brings awareness, compassion and action to this brilliant cause.
Whether you are an organisation, a caring individual or a pet product (like us!), use this day to draw attention to stray animals and give something back. With this in mind, Doggy Grub delivered food last Sunday to Paws & Claws (who recently managed to close a puppy farm!) for them to distribute our Doggy Grub meals among Paws & Claws' foster families (who by the way do an amazing job at making the pets feel safe and loved while waiting for their forever home).We invite you to check out Paws & Claws website and get involved in supporting awesome charities like theirs.
Stray animals Day is a day to show compassion and care for stray animals, so don't forget to share your #strayfie on social media this Wednesday to bring awareness to the cause.
You can also play a part in reducing stray dogs by ensuring your pet is microchipped and the details on the chip are up to date. Check whether your pet is registered over at www.petaddress.com.au.
What can you do if you lose or find a pet?
Call RSPCA on 1300 477 722 or search their website for a list of lost animals
Notify your local vet or council
Post on social media (Lost Dogs Of Adelaide) and notify neighbours to keep a look out!
Want to be the first to get your paws onto the hottest topics? Subscribe to our newsletter!
-------------------------------------------------------------------------------------------------
The Doggy Grub blog is dedicated to helping dogs and their owners achieve happier, healthier lives, changing the way we feed our dogs one bowl at a time! If you would like to know more about our fresh food head to Doggy Grub