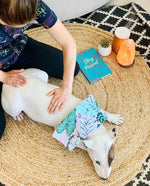 The Doggy Grub blog is dedicated to helping dogs and their owners achieve happier, healthier lives through good nutrition and holistic methods.
Today, we chat with the wonderful Gaby from PetZen Dog massage, in Adelaide, all things therapeutic & relaxation bodywork for our pets!
Hi Gaby! Thank you for joining us on the Doggy Grub blog. Talk to us a little bit about your background and how you came to specialise in therapeutic massage for dogs?
Hi guys, my pleasure, thank you for having me here :) 
My name is Gaby and I am a former veterinarian from Ecuador. I came to Australia about 3 years ago and for as long as I remember I have been involved with animals! Holistic medicine has always grabbed my attention so during my last year of veterinary medicine I learnt about animal physiotherapy from an amazing veterinarian who specialised in Argentina.
When I completed my vet degree, I worked for the physiotherapy area of my University hospital where I was fortunate enough to practice physiotherapy on different dogs, cats and even a tiny monkey from the Amazon. 
During this period of my life, I was privileged enough to be called to work for the Ecuadorian government in the Galapagos Islands where I dedicated about a year of my career to work for the public health sector. This experience was unforgettable: to be so close to native species just made me want to have an even more holistic approach to medicine. 
When I returned to the mainland, I worked very close with a good friend of mine who was also a veterinarian and we opened a boarding kennel for dogs and cats which provided daycare, overnight stay, physiotherapy, grooming, and general veterinary medicine consults. HuesPet was a small dream with a big heart that inspired me to keep perusing our goals. My husband proposed to me, and we came to Australia.  
When we arrived in Adelaide, I knew I wanted to continue working with animals. I started volunteering for a dog training school called Canine Behavioural School (I have always been passionate about animal behaviour as well). I continue to volunteer there every Monday.
Then life gave me the incredible opportunity to join my orange family, Dogcity Daycare. While working at Dogcity I wanted to pursue another goal of mine which was to study Veterinary Chinese Medicine.
About a year ago, I enrolled with the Chi Institute to become a Certified Small Animal Acupuncturist.
Because I cannot stay still, and I'm a bit of a nerd to be honest, I studied to become a Whole Energy Body Balance Practitioner, which involves multiple bodywork techniques for healing dogs.
Finally, I'm currently studying to become an international Canine Myo-manipulative Functional Therapist. 
What exactly is therapeutic and relaxation massage for pets?
Massage is the touch of the physical and energetic body with a healing purpose. Therapeutic massage refers to a hands-on healing system with many different techniques. All of the techniques involved in touching or manipulating the body in complementary medicine are referred to as bodywork. We perform bodywork to bring balance, relieve pain, promote relaxation, among other benefits. 
For relaxation bodywork we apply multiple techniques that I learnt during Whole Energy Body Balance studies. I also apply pressure on different points on the body that promote relaxation or move energy; this is called acupressure. Surprisingly, I believe the word relaxation is only the tip of the iceberg if we think of all the positive things that happen in the body during a bodywork session. Our intention and manipulation creates positive changes on the body, behaviour, mind & spirit and around us.
What would a consultation look like?
The first home visit usually goes for 60 minutes: I perform a complete assessment of the dog and discuss with the owner which areas of the body need a little bit more attention.
If it is only massage for relaxation reasons, I perform bodywork and at the end of the session I tend to share a few techniques with the owner so they can start helping their pet on a daily basis while strengthening their bond :)
Subsequent visits run for about 30 to 45min. 
If the massage session is held at Dogcity Daycare, I use purely relaxation techniques, so people find it more like a spa treatment while their dogs are at school :) Usually the dog goes to Dogcity Daycare where they spend their day with their pawsome fur friends and pack leaders, have some delicious Doggy Grubb casserole and finish their day with a pampering, pure bliss relaxation massage. 
What dogs would you recommend it for and what are the benefits of your service?
Massage is recommended for all dogs.
Dogs can be massaged from 8 weeks of age. The younger the pup, the shorter their attention span is. We have a 15 min relaxation massage tailored for puppies. It is called 'Woof my Chi' and we perform a very subtle and special bodywork technique called Somatic Relaxation that, throughout time, creates new neuropaths in their brains to basically teach the dog how to settle. It is incredible how touch can bring so much awareness to the body and the brain!
Massage brings innumerable benefits to everyone, it improves circulation, relieves pain, improves the condition of the skin, releases hormones to make us feel happy, repairs tissues, and so on. 
Is there any situations or dogs that you would NOT recommend massages for?
Yes, there are contraindications to massage like infectious skin diseases, fever, if your dog has had a recent operation or an acute injury which requires veterinary assessment first. Pregnancy and cancer are the main ones that come to mind. 
However, there are different types of bodywork which involve very subtle or even no manipulation at all like craneo–sacral therapy. Before booking for a massage session, it is always important to contact us first so we will guide you in the right direction. 
In general, massage can become part of your pet's lifestyle like exercising, eating healthy food, training, doing enrichment and resting because it brings immeasurable benefits to all of us!
What is the best way to contact you for a booking?
You can contact us at 0484374143 or through social media, Facebook and Instagram @petzenmassage.
Make sure to stay tuned for tips and discounts :)
Thank you Gaby!
Thank you for your pawsome time!!
Want to be the first to get your paws onto the hottest topics? Subscribe to our newsletter!