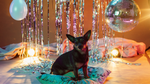 A new year is upon us!
As 2021 comes to a close, we wanted to reflect on this year, a glass of bubbly in hand (two-legged team members only).
Cheers!
Our favourite moments of 2021
Although still peddling through a global pandemic, this year was one we will always remember because it marked the completion of our biggest project so far!
Hello new packaging!
Doggy Grub launched a brand-new packaging that allows for your dog's food to remain super fresh without needing refrigeration. Of course, we couldn't stop there! We also reviewed our most loved recipes and boosted them with more superfoods and palatability.
Seeing your dogs transitioning to the new and improved formula and enjoying it even more has been one of the highlights of this year.
Nationwide deliveries
2021 also marks our launch nationwide! Now, not only pups in SA can enjoy nutritious casseroles but everypawdy in Australia! It has been so exciting reaching more dog owners, hearing your stories and helping you change the way you feed your dogs.
We're so looking forward to growing this community of caring owners in years to come.
Teamwork
Our team has also grown to include amazing humans that care deeply about your pets (it's not even funny how much time we spend looking at dogs' photos!). From our kitchen team to our packing team and peeps behind the screen, we feel extremely blessed to be surrounded by amazing people whose commitment to doing a great job transpires in everything they do.
Watch out 2022!
In 2022, we want to continue putting our grub values forward!
Australian sourced and made
Our ingredients have always been 99.99% Australian from day one and we intend to continue that way. Supporting our local farmers and making sure all our processes are done locally, working with businesses we can trust, allows us to monitor and control every step of the way to ensure your dog's bowl is balanced and full of top ingredients!
In 2022, we promise to continue holding ourselves and our partners to high standards, resulting in the best possible meals and treats for our four-legged friends.
Make the pet food industry a better place
There is a clear lack of regulations and transparency in the pet food industry. This is something we really couldn't believe before launching Doggy Grub and it's a topic that gets us barking mad!
So in 2022, we will continue to hold ourselves to the same standards as the human food industry, show our processes in a completely transparent way and share educational resources with pet owners to empower them.
Bringing you the most nutritious food and treats!
Every product we launch or stock on our website is carefully selected to improve your dog's nutrition and well-being as well as make your life easier!
Doggy Grub was born out of the need to improve our own dog's quality of life. We want you to see how good food can help your dog thrive. For this reason, we have introduced the option of using our meals as a topper, a treat or to go away on a camping trip! That means you can now purchase them as a one-off, no subscription needed, to suit every budget.
Finally, we want to cheers to you! All of this could not be possible without your support!
We look forward to what 2022 brings!
Happy New year!
Want to be the first to get your paws onto the hottest topics? Subscribe to our newsletter!
--------------------------------------------------------------------
The Doggy Grub blog is dedicated to helping dogs and their owners achieve happier, healthier lives, changing the way we feed our dogs one bowl at a time! If you would like to know more about our fresh food head to Doggy Grub