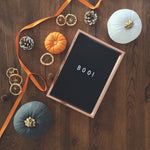 We never miss a chance the see a dog dressed up for the holidays!
If you and your dog are feeling spooky this year, we've rounded up a selection of costumes you can get your paws on for Howl-o-ween, all under $30.
1. Lobster Pet costume- Kmart $7. You can always count on Kmart to come up with awesome pet apparel!
2. Spiderdog - Amazon $16,21
3. If you want to keep it simple or have a dog that doesn't like to dress up, you always have the option of a Halloween bandanna. Have a look at your local small businesses that will certainly do limited Halloween edition bandanas.
4. Wonder women dog costume- Lucky Pet $22.97. Lucky pet also has a lot of Star Wars & Marvel costumes!
5. Bat wings Dog costume-  Costume Super Centre $8.60
6. Glow in the dark skeleton costume- Lucky Pet $22.77
For more fun ideas, check out our Halloween pup costume selection from a few years back!
Will you and your dog be dressing up for this year's Halloween celebrations?
Want to be the first to get your paws onto the hottest topics? Subscribe to our newsletter!
------------------------------------------------------------------------------------------------------------
The Doggy Grub blog is dedicated to help dogs and their owners achieve happier, healthier lives, changing the way we feed our dogs one bowl at a time! If you would like to know more about our fresh food head to Doggy Grub