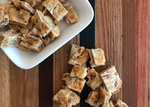 Whether you're training your puppy or teaching your older dog new tricks, high value treats have most likely become your best ally.
Buying treats all the time can be very expensive, and many of the ingredients used are not wholesome.
Too many processed treats can result in your dog packing on extra kg.
That's when we come in with this high-value treat recipe you can make yourself!
Ingredients:
1 can tuna in springwater or can of salmon.

1 large egg.

1 cup flour (oat or normal flour)

1/2 cup grated cheese (sharp cheddar).
Directions:
Preheat over to 180

°C.

Grate cheese and add all ingredients into a medium sized bowl. You don't need to drain the tuna.

Mix well until you can knead a ball of dough.

Line a tray with baking paper and press the mixture into an even layer.

Bake for 20min. Once baked, the treats should be firm and dry to the touch.
Place onto a cutting board and cut into small pieces (1cm squares) using a knife or pizza slicer.
If too wet, return the squares to your baking dish and bake for an additional 30min at 130



°C.

Store in air tight container in the fridge for up to a week or in the freezer for a month.
These treats are low calorie and highly enticing due to their smell.
Your dog will love to learn and be rewarded with these fishy bites!
Want to be the first to get your paws onto the hottest topics? Subscribe to our newsletter!
-------------------------------------------------------------------------------------------------
The Doggy Grub blog is dedicated to helping dogs and their owners achieve happier, healthier lives, changing the way we feed our dogs one bowl at a time! If you would like to know more about our fresh food head to Doggy Grub