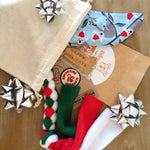 It's that time of the year again. When you make a list. Check it twice. Going to find out who's naughty or nice (yes that's the Santa Claus Is Coming To Town jingle). AKA Christmas shopping! While everyone from your great uncle to your step niece is on the list, don't forget the most important family member of them all – your beloved pooch.
And do we have the best present of them all – our Doggy Grub 'Christmas stocking'. And by Christmas stocking we mean organic cotton string pouch! Let's take a look at its cute contents:
A TUGGY TOY
A (Christmas edition) tuggy toy from Adelaide-based Fuzzy Dog Tug Toy means they are extremely strong and durable while being gentle on the teeth. Made from fleece, they also make great cuddle or tug of war toys.
A PERSONALISED BISCUIT
A crazy special treat for a crazy special dog: a biscuit from The Crazee Dog Lady, which contains all natural ingredients, is preservative free, and has no added sugars or salt.
A DOUBLE SIDED CHRISTMAS NECKERCHIEF
Your dog will light up more than the Christmas tree, with this cute double sided Christmas neckerchief from Adelaide-based A Dog Named Tom, featuring Australian animals decked out in Christmas gear.
A SAMPLE PACK OF GRUB BOOST POWDER
Of course we had to include our famous Doggy Grub Grub Boost! This natural canine supplement is made from superfoods and is a great addition to any diet for a boost of vitamin and minerals. Suitable for puppies, adults and seniors alike.
AN IRON ON MERIT BADGE
Is your dog the Sloppiest Smoocher? Fur Baby? Or Will Sit For Treats? Get lucky dip on one of these three cute badges from Scout's Honour. Super easy to iron on bandanas, which look wooftastic.
The Doggy Grub Christmas stocking is just $35 and ships Australia wide. 10% of the profits from the sale of the Christmas stockings will go to SA Dog rescue, to raise awareness that a pet isn't just for Christmas. 
PSSST… DOGGY GRUB DOES GLENELG SUNSET MARKET
Catch us at the Glenelg Sunset Market Sunday 9th December. We'll have the Christmas stocking available (if stock lasts), some Doggy Grub show bowls for $5 - bargain! – and our Doggy Grub Boost Powder. Plus we'll have our fab photo booth to take some happy snaps with your dog!
It's the perfect place to get your Christmas shopping done. And why not come before or after walking the dog on the beach, or make a nice day out of it with a picnic on the beach?
Doggy Grub will be at the Glenelg Sunset Market on Sunday December 9th and Sunday March 10th at Moseley Square from 4.30pm - 8.30pm.
Want to be the first to get your paws onto the hottest news and topics? Subscribe to our newsletter!
 ------------------------------------------------------------------------------------------------------------
The Doggy Grub blog is dedicated to help dogs and their owners achieve happier, healthier lives, changing the way we feed our dogs one bowl at a time! If you would like to know more about our fresh food head to Doggy Grub